You are not working alone, even if you are apart
Successful Remote Teams -
PRESALE
Remote Work is a constant in the current working world, but it is surrounded by operational, social, and structural confusion. There are no existing accepted patterns of interaction for remote work. We are going to change that.

Remote work is varied but definable.

Remote work can be safe, productive, and enjoyable.

Remote work can be easier and less expensive. Let us show you how in this course.

Presale Offer!

Course Drops December 8th, 2023.


Presale prices are 60% off the post-launch rate. Show your support for Jim and Mark by pre-purchasing.

See below for Gold and Admantium levels of the class.
Remote work does not have be isolating or confused.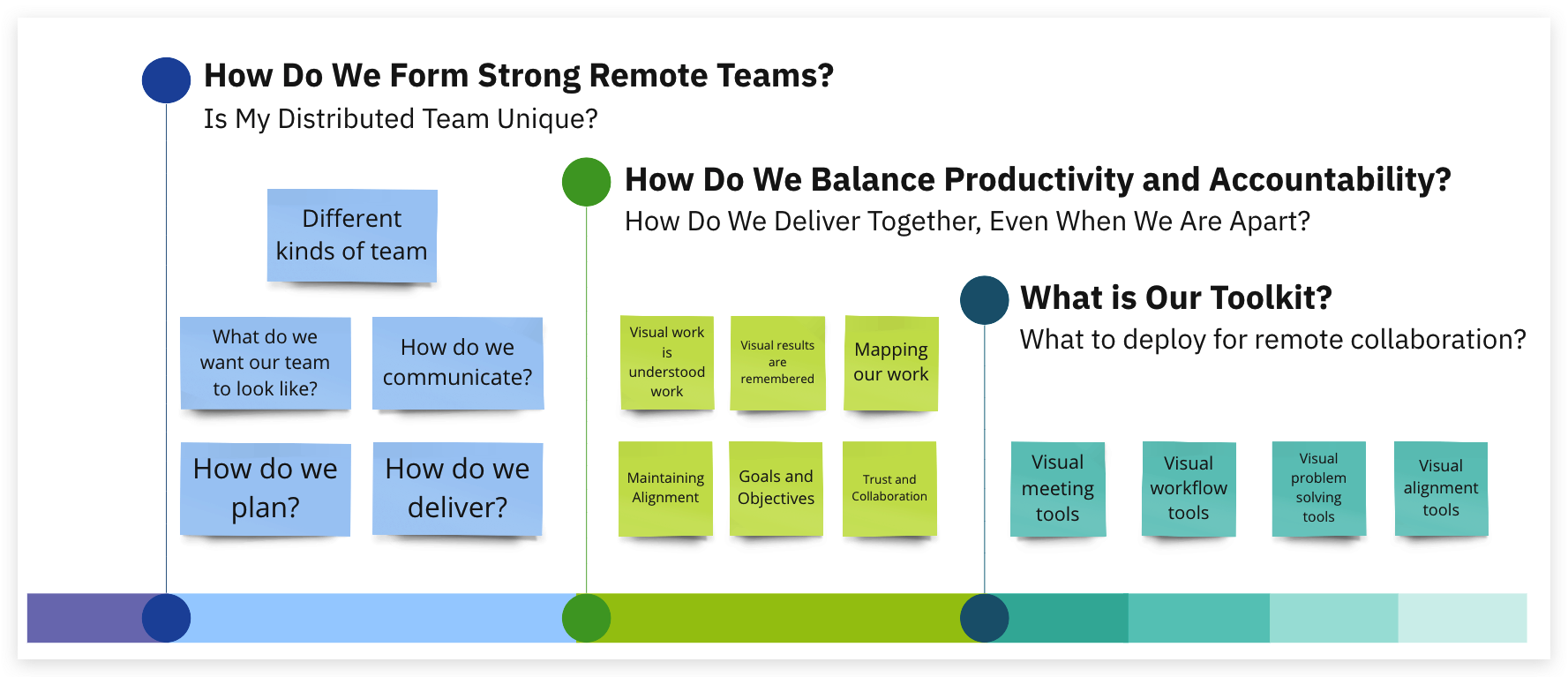 Part 1 - They WHY and WHAT
of our remote team
Defining our team structure and setting the goal and our victory conditions.
Part 2 - The HOW and WHEN
of our remote team
Defining how we see our work and know when and where to collaborate.
Part 3 - The WOW
of the team
Co-creating visual indicators of when we drift out of alignment and making adjustments to realign. Agree on how we check-in with each other.
Co-create the team | Visualize and share the work |
Be Productive, Effective, and Remote
Silver
Self Paced
and On Your Own
$147
All You Need:
Study at your own pace

lifetime access to the Distributed teams class

access to one sheets

price breaks on future classes and events

Gold
Self Paced and
Study with a Group Over Two Days

$347
Includes silver plus:
Two day class with the instructors

Global Community

miro templates to run own workshops

special gold-only events
Admantium
Better than gold!
Gold Plus Dedicated Deep Learning
$647
Includes all the Gold and:
Modus Circle membership
(a 400 dollar value).

Additional TWo-day in depth workshop with invested collaborators

opportunties for work with your team

deep conversations for your specific needs
Don't Hide from Problems
Successful remote teams define problem-solving strategies together.
Collaborate and Complete
Successful remote teams work together to finish together
Build it and Remember it.
Meetings have a purpose and a product. (No more poor memory playhouse).
Remote Reflection
Successful remote teams find ways to improve, together and often.
7 Chapters

1 Certification

42 Tools & Techniques

38 Videos


Many solutions to improve your remote or hybrid teams
Building the Right Environment
Building the best environment supporting your remote or hybrid team can make or break your product or service. We help you navigate the team dynamics and neuroscience of remote work.
Tapping Into Experts

You not only hear from two experienced practitioners of report work, but we also interview experienced remote practitioners from around the globe on different topics of remote work.
Meet the instructorS
Jim and Mark
Jim Benson
is best known as the creator of Personal Kanban, a method for visualizing and managing personal workflows. In 2010, Benson published the book Personal Kanban: Mapping Work | Navigating Life, which introduced his techniques for using Kanban principles to optimize and manage personal productivity. Through his training programs and writings, Benson has helped popularize the use of Kanban beyond software development teams to individuals seeking to take control of their work and lives.
Mark Kilby is an author and expert on distributed teams and remote work. In 2018, he published the book From Chaos to Successful Distributed Agile Teams: Collaborate to Deliver, with co-author Johanna Rothman. In this book, Kilby provides advice and principles for managers and teams seeking to transition to working remotely using agile principles. Drawing on his extensive experience helping companies embrace location-independent work, Kilby offered practical guidance on topics ranging from managing remote workers to facilitating collaboration across distances. His writings and consulting have made him an influential voice in the growing field of distributed work.
Together, Benson and Kilby have developed frameworks and models that empower individuals, teams, and organizations to work flexibly and effectively whether co-located or geographically dispersed.
Welcome to the New Modus Institute!
Learn to collaborate and make collaboration easy.

Find ways for you and your team to focus and finish.

Get set for agile, lean, or building your own systems.

Get your team and your company moving in the same direction (no more fighting or status meetings).