Solve problems, deal with complexity, meet opportunities
Finding Solutions
Problems are opportunities.

Every problem we face is an opportunity to improve or a disaster to avert. Yet we treat problems like interruptions. We don't plan for them or professionally solve them.

Finding Solutions teaches a proven method of anticipating change, quickly solving problems, and moving on with minimal interruption and maximum return on our time.

Let's deal with change for real.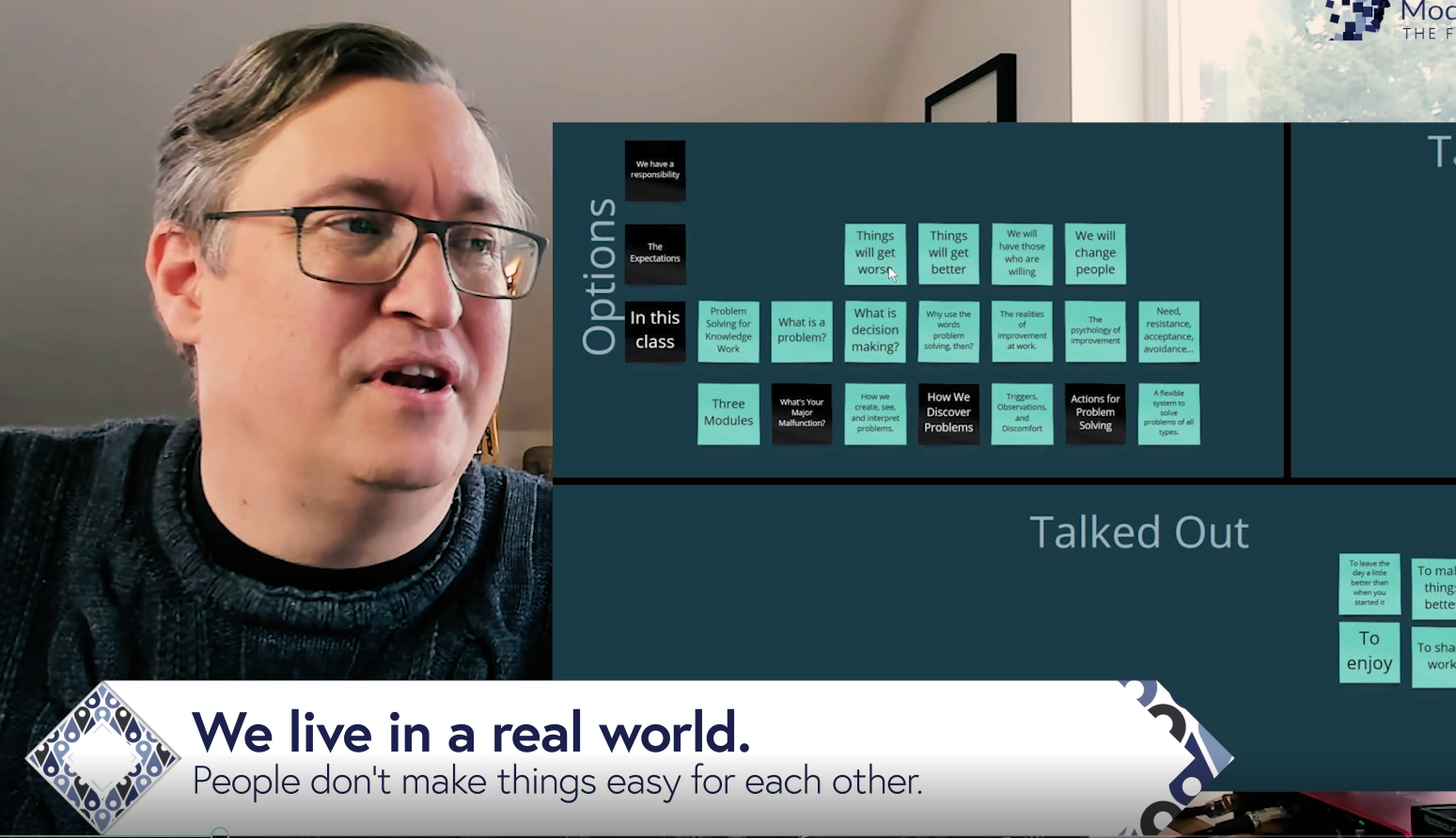 A System of Professional Problem Solving

Module 1:
Why Don't We Just Solve Problems?
We don't solve problems because we don't have systems in place to do so. This means that every problem works counter to your team's goals, instead of just being an opportunity to learn and improve.
Module 2:
How do We Learn to See Problems?
Problem spotting and solving isn't normal behavior, therefore you and your team have no background in spotting problems or being honest about them when they arise. This means we delay talking about them, all the while they are getting worse.
Module 3:
Tools and Actions
When we get to solving the problem itself, this system lays out clear steps of seeing the problem, socializing it, gathering ideas, exploring ideas, and then finding a right solution.
Spot Problems | Create Many Options | Work Together | Find the Right Solutions
Don't Hide from Problems
Don't let schedule or other fears stop you from dealing with real work head on.
Collaborate and Solve
Gather your team, solve problems quickly, avoid the crises before they start.
Improvement is Always a Solution
Every improvement is a problem to solve.
Have Real Retrospectives
Your Retro is only as useful as your ability to find ways to improve, together.
7 Chapters

1 Certification

17 Retrospectives

40 Videos

7 Downloads
The Right Work at the Right Time
You can better manage what you can see. Personal Kanban show you and others your work, your capacity, how you can help, and when you can use some.
Communicate Visually &
Effectively

Avoid overload, miscommunication, and make promises you can keep by seeing your work and being able to show it, as a picture, to others.
Meet the instructorS
Jim and Tonianne
Jim and Toni wrote the Shingo-award winning book Personal Kanban and have traveled to every continent (except Antarctica) teaching Personal Kanban and helping individuals and teams see their work, choose the right amount to do at a time, and complete with confidence.

For 15 years, they have worked with individuals, startups, agencies, all the way up to Fortune 10 companies and the United Nations... helping people who want to calm bureaucracy, focus on the right work, and collaborate meet their goals.



Welcome to the New Modus Institute!
Learn to collaborate and make collaboration easy.

Find ways for you and your team to focus and finish.

Get set for agile, lean, or building your own systems.

Get your team and your company moving in the same direction (no more fighting or status meetings).