your priority changes because change happens
Personal Prioritization
We start the day thinking we know what is going to happen...then we are surprised.

Almost ... every ... day.

We then feel behind. Our priorities shifted, but the work that needed to be done is still undone. People ask "When will that be done?" You find you have no reply but a shrug.

Prioritization isn't just about knowing what is important, it's about knowing what you are doing and why, learning about what interrupts you, and making promises to others and yourself that you can keep.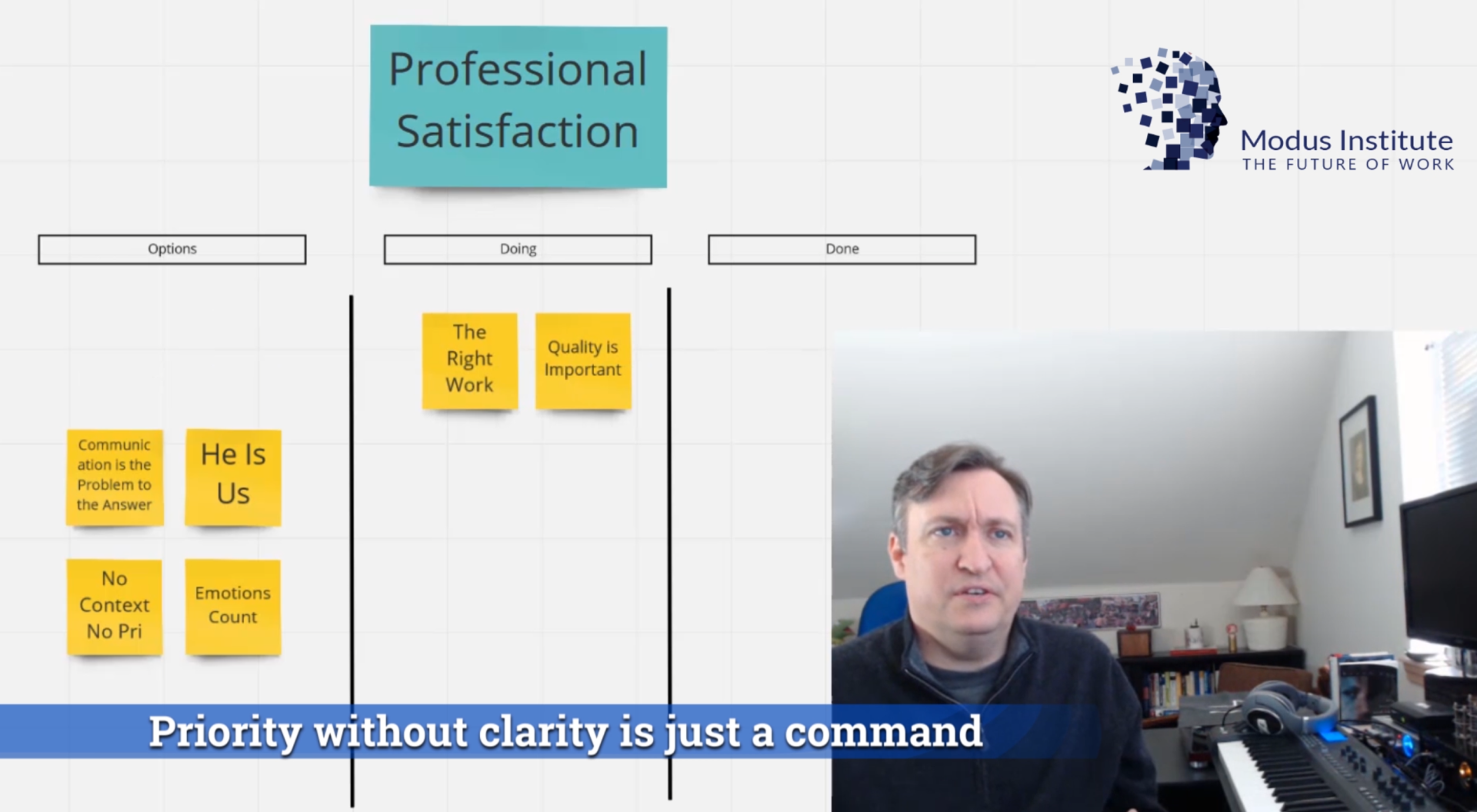 Getting Control of Our Promises & Expectations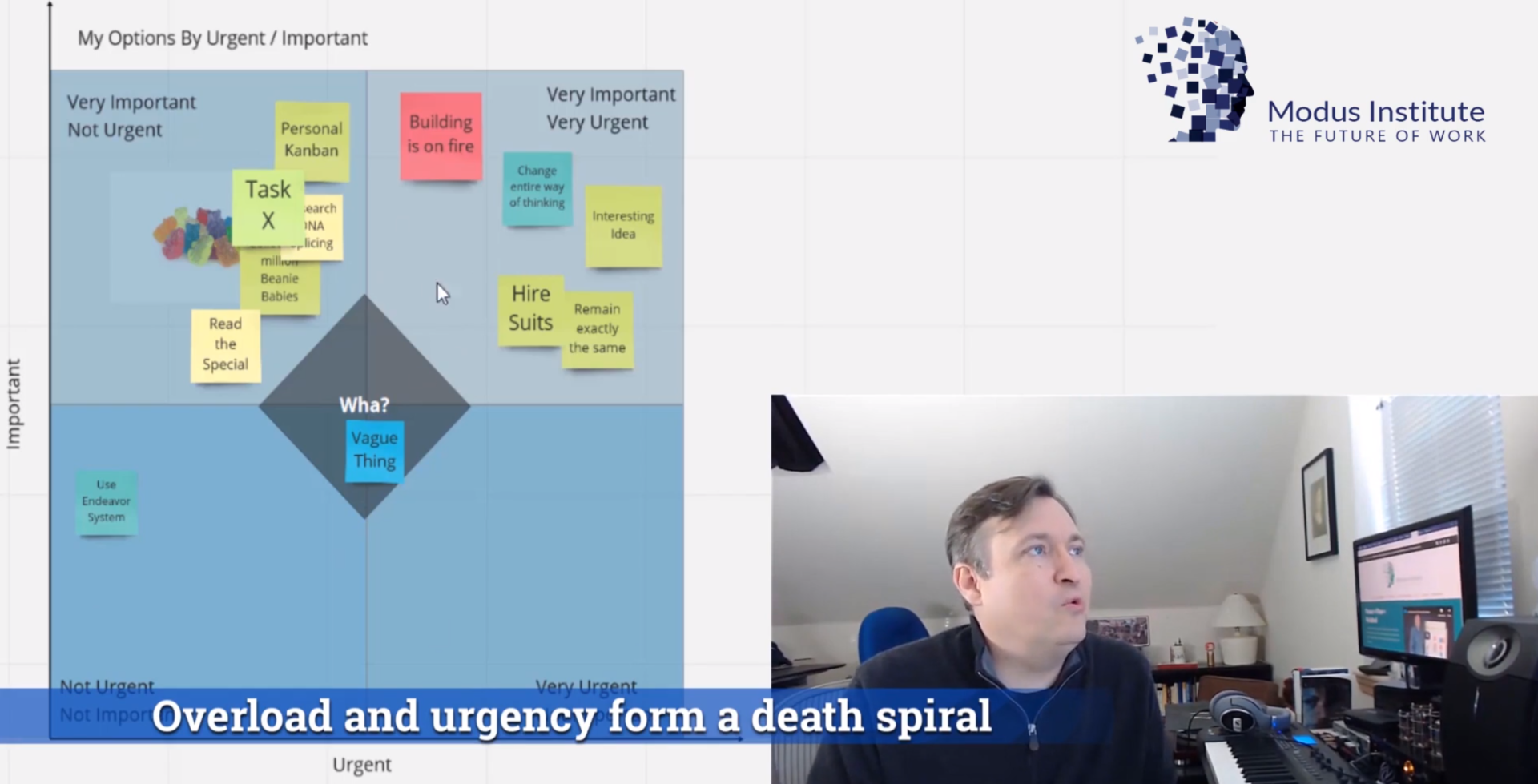 Module 1:
Why is Prioritization Even Hard?
It doesn't sound like it would be, but it is. Psychology, office politics, power distance, and the desire to perform all combine to make prioritization difficult. Module 1 gives us a foundation to start prioritizing.
Module 2:
How to Calm the Chaos
Eight techniques to visualize upcoming work, weigh its true importance, and commit with confidence.
All immediately usable, start prioritizing like a pro right now.
Module 3:
Closing
Creating the habits of prioritizing, building flexible working agreements, and creating visual systems that guide our work based on real information, not wishful thinking.
Choose the Right Work | Let Everyone Know the Priorities | Plan Together | Elegantly Respond to Change
Know What You
Can

Do

Don't let your uninformed plans become your death sentence.
Plan With Your Team
See your priorities, show others, discuss and alter.
Priority is Always Shifting
Build flexible plans that can change with reality.
Have Real Retrospectives
Your Retro is only as useful as your ability to see what you intended and where you ended up.
3 Chapters

1 Certification

8 Techniques

12 Videos

3 Downloads
The Right Work at the Right Time
You can better manage what you can see. Your priorities are set visually and in context. They are part of the story. They will change as the day goes on.
Communicate Visually &
Effectively

Seeing how tasks are ranked and shift throughout the day tells us a lot about how we select work, why we are often disappointed, and what we can truly get done.
Meet the instructor
Jim Benson
Jim Benson is a renowned productivity expert and co-creator of Personal Kanban, an influential time management and workflow visualization method. With a passion for optimizing individual and team productivity, Jim's innovative approach to organizing tasks has empowered countless professionals to achieve greater efficiency, clarity, and work-life balance. Through his writings, workshops, and speaking engagements, he has become a leading voice in the realm of personal and collaborative productivity. Jim's profound impact on the way we approach work and manage our daily lives has earned him widespread recognition as a pioneer in the field of productivity and time management.
Welcome to the New Modus Institute!
Learn to collaborate and make collaboration easy.

Find ways for you and your team to focus and finish.

Get set for agile, lean, or building your own systems.

Get your team and your company moving in the same direction (no more fighting or status meetings).