collaborate together...apart
Successful Distributed Teams
Few teams don't find themselves working at home on Zoom with team members they may have never met.

Distributed teams are a mainstay of modern business, but we've been working with them since the turn of the century.

Being apart does not have to mean constantly on the camera or begging for information on Slack. Your teams can plan how they work, communicate effectively, and get their work done with less stress.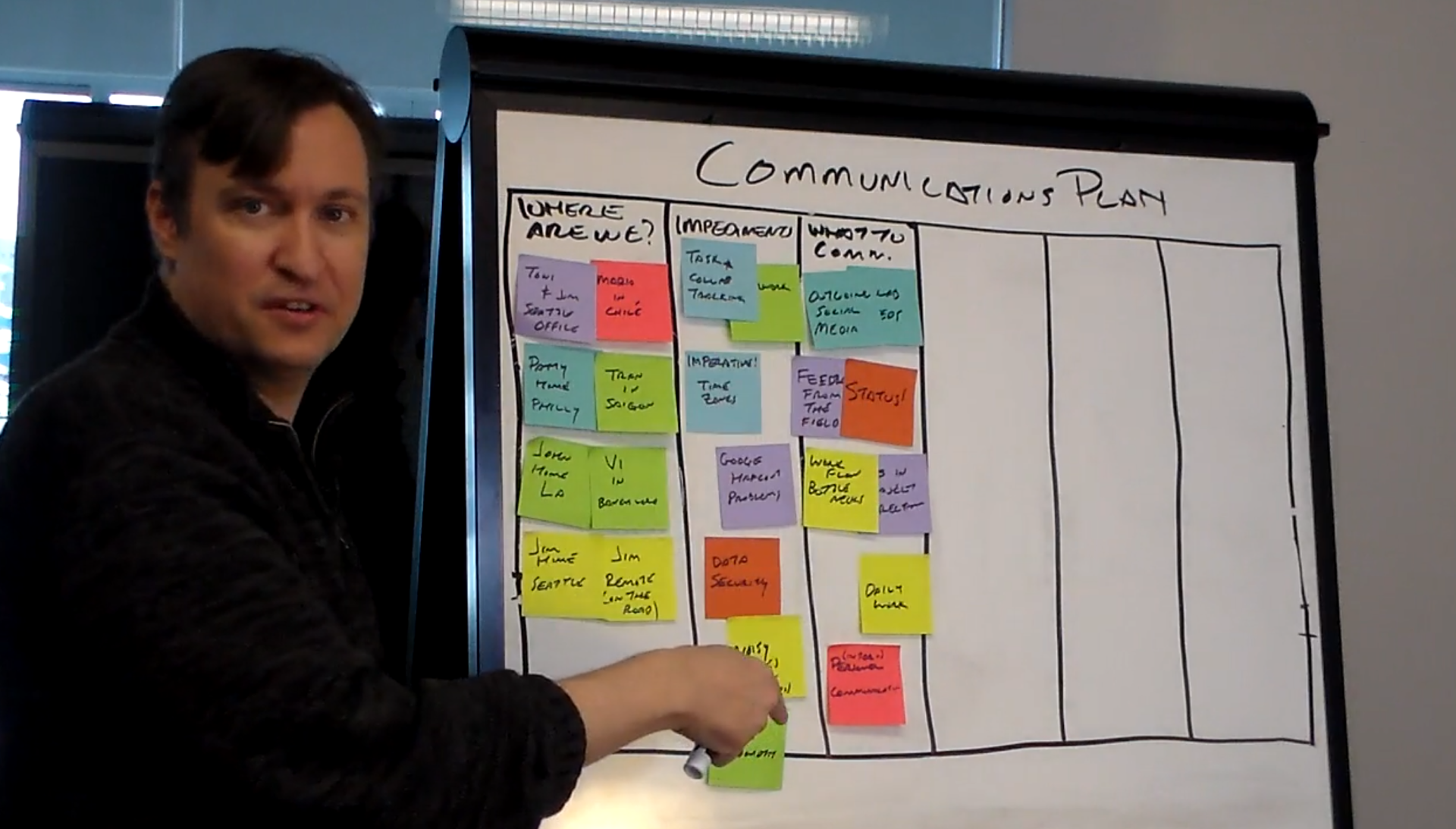 Distribution Needs a Shared Identity

Stage 1:
What is Our Commitment to a Tight High Performing Distributed Team?
Your team isn't sitting together, but they are working together. They need information, direction, cross training, onboarding, reassurance... all those things we took for granted together we now have to plan for apart.
Stage 2:
How can my team
plan, prioritize, and succeed?
Your team needs to know what is going on, what is coming up, and what to expect from each other. This requires a definite charter, communications plan, and responses to change.
Stage 3:
How do we make sure
our team keeps improving?
A team collaborates. Your individuals need to trust each other, by working closely together. This does not happen accidentally, you have to make it happen.
Define the team | Define the work | Define success
Being Together While Being Apart
Create a team that knows what to do, when to help, and how to support.
Know the Why, What, and How of your Work.
Teams on the same page can help each other, sequence better,
and complete the right work at the right time.
Improvement, Upskill, Invent
Your distributed team needs to become a collaborative powerhouse.
Have Real Retrospectives
Retros based on work you understand make meaningful improvement.
3 Modules

1 Certification

15 Units

15 Videos

2 Downloads
The Team
Understands the Team
Work will always be frustrating in a sea of confusion. Prioritizing together means the team truly discusses and understands the work at hand.
Communicate Visually &
Plan Stronger

Seeing the relationships, risks, and unknowns of upcoming work as a group provides everyone an opportunity to analyze and help. This creates more meaningful priorities and better understanding when priorities change.
Meet the instructor
Jim Benson
Jim Benson is a renowned productivity expert and co-creator of Personal Kanban, an influential time management and workflow visualization method. With a passion for optimizing individual and team productivity, Jim's innovative approach to organizing tasks has empowered countless professionals to achieve greater efficiency, clarity, and work-life balance. Through his writings, workshops, and speaking engagements, he has become a leading voice in the realm of personal and collaborative productivity. Jim's profound impact on the way we approach work and manage our daily lives has earned him widespread recognition as a pioneer in the field of productivity and time management.
Welcome to the New Modus Institute!
Learn to collaborate and make collaboration easy.

Find ways for you and your team to focus and finish.

Get set for agile, lean, or building your own systems.

Get your team and your company moving in the same direction (no more fighting or status meetings).